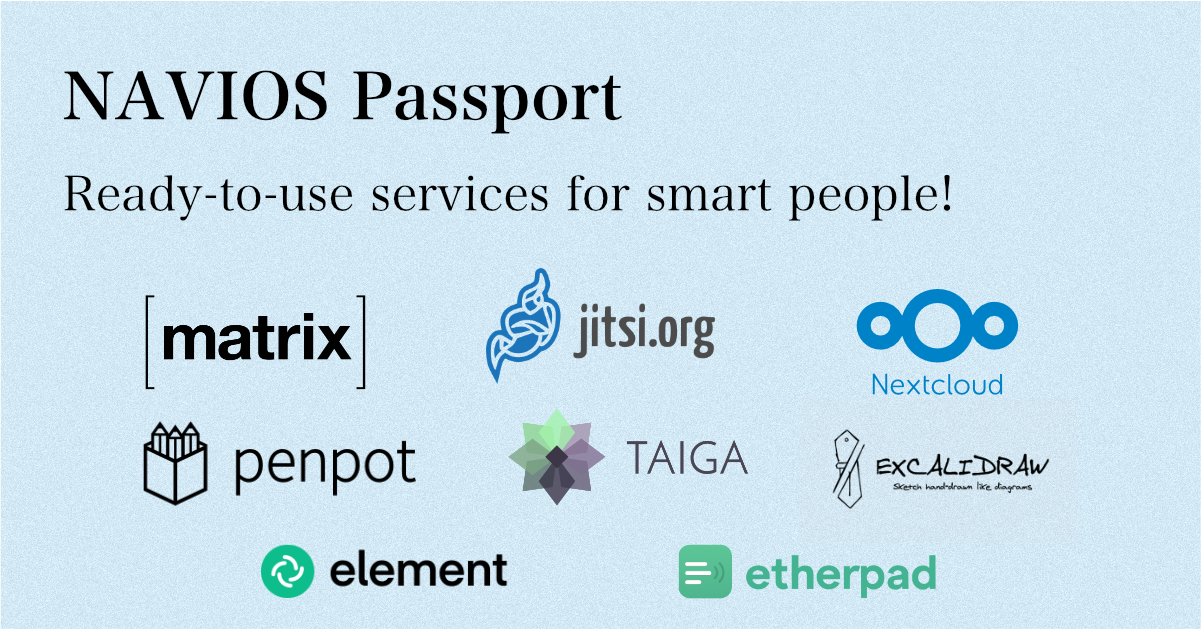 Overview
NAVIOS Passport is a subscription-based cloud service.
We have prepared a demo environment for you to check the contents provided by the service.
How to use
You can access the following URL to use each application with a demo account.
URL to connect
Demo account (id:password)
Services included in NAVIOS Passport
Matrix Synapse & Element-web: Message App
Matrix Synapse is the server software for Matrix, an open source decentralized messaging and communications protocol. This service provides Element-web as a client application. It is possible to realize smooth collaborative work like Slack and Microsoft Teams.
Messaging
It offers real-time messaging, allowing users to send and receive text messages, files, images, audio, and more.

VoIP function
It is possible to make a call using the client application.

Room management
By creating a room and inviting multiple accounts, it is possible to discuss any purpose.
Jitsi Meet: Web conferencing system
Jits Meet (or "Jitsi Meet", also known simply as "Jitsi") is an open source video conferencing platform. Jitsi Meet is designed to enable multiple users to conduct real-time video and audio calls via web browsers.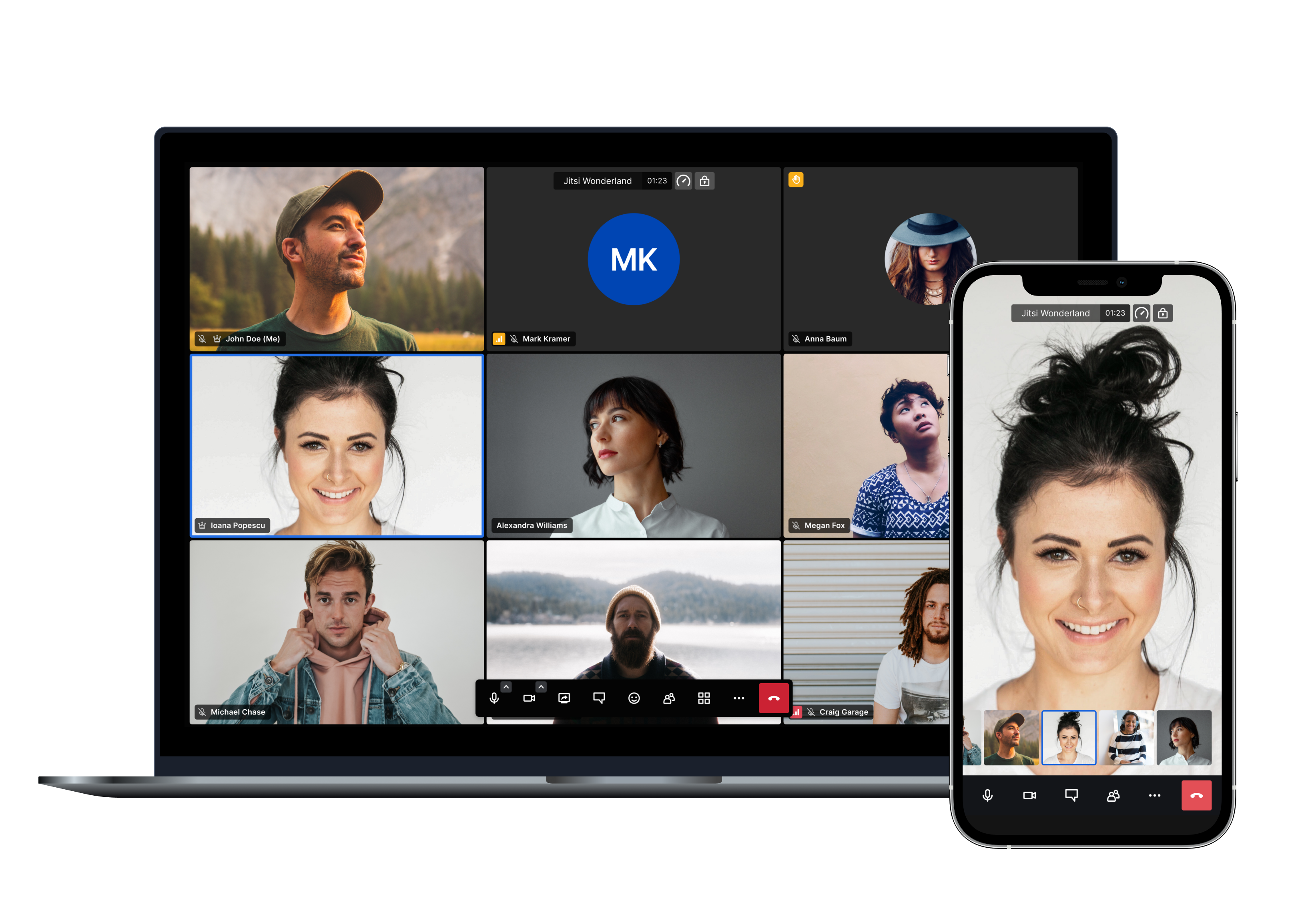 Taiga: task management
Taiga is a project management tool with Kanban functionality for agile teams. It has an intuitive user interface and is also multilingual.
Dashboard function
Visualize task progress and status in real time with team performance dashboards and project timelines. A burndown chart is also installed, so you can grasp the remaining work amount at a glance and take early measures when there is a problem.

Kanban function
Kanban-style task management combines columns and lists with Kanban to visualize task progress. Arrange the kanban cards like sticky notes on a board, and sort them into lists such as "not started", "in progress", and "completed" according to their progress. Move the task to "In progress" when it starts, and to "Completed" when finished, so that you can easily understand the progress of the task.

Scrum function
The Scrum method is a management method that is suitable when a team completes one project in order. Allocate weighting points to user stories (customer requirements) in UX, Design, Front, and Back items. You can visually check the amount of work with the assigned points. You will create a sprint, which is a period set by the team, decide what work to do during this period, and work as a team. The Scrum method is to progress and complete the project in small sprints.
PenPot: Design Workflow
Penpot is the first open source design and prototyping platform built for cross-domain teams. A web-based, operating system independent penpot that works using open web standards (SVG).
Interactive prototypes for everyone
Create rich interactions that mimic product behavior. Share with stakeholders, pitch to your team, start user testing with your designs, all in one place.

Libraries & Templates
PenPot builds a community together. Your work and knowledge can be useful to someone else, even if you think otherwise. Here you can share your libraries and templates and download the ones you like.
NextCloud: Cloud storage (standard storage capacity: 4GB ⇒ 10GB)
Nextcloud is open source software that allows users to build online storage such as Dropbox and Google Drive. The user interface is multilingual and can be displayed in other languages as well as English.
File Management
Files in the cloud can be manipulated using a browser and client applications for Android and iOS. Like Dropbox or Google Drive, it is possible to synchronize in the background, automatically upload photos taken with a smartphone to the cloud, and edit the images on the desktop, saving one or two steps. You can work efficiently.

Media files are automatically placed in Photo and Video folders. It also comes standard with an album function that allows you to manage your own photos, making it excellent for media file management.

Rich plug-ins
A large number of plug-ins are provided, such as calendar plug-ins and LDAP linkage plug-ins.
ExcaliDraw: Whiteboard Application
It is an online handwriting style drawing application. You can arrange shapes or draw freehand. There are a lot of libraries by the community, and you can easily add and use them.
Handwritten style drawing tools
It is a user interface that intuitively draws pictures. The library is also rich and by dragging and dragging the added library, it can be drawn as an object on the whiteboard.

Whiteboard sharing function
By issuing a shared link and sharing it with team members, you can view and edit in real time on a single whiteboard.
Notes on using the demo environment
The demo environment is a public environment open to the Internet, so please do not register any highly confidential information such as personal information or confidential information.
We assume no responsibility for any damage incurred by users due to the registered information.